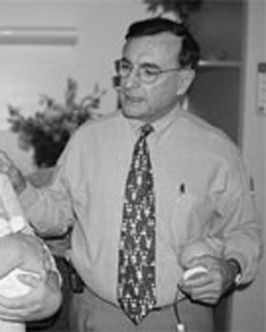 Dr Aldo Vacca, 1941 - 2014
The late Dr Aldo Vacca (OAM, MBBS, FRCOG, FRANZCOG, Grad Dip Ed) was renowned as a tireless advocate and educator of vacuum-assisted delivery (VAD), both in Australia and internationally. His efforts are estimated to have avoided 100,000 cases of maternal trauma in Australia alone*. Dr Vacca identified and refined the five steps common to all vacuum deliveries.
The Vacca 5-Steps
Dr Vacca's 5-Steps Technique to Vacuum Delivery
Dr Vacca identified and refined the five steps common to all vacuum deliveries and developed the Handbook of Vacuum Delivery in Obstetric Practice. He continued to research VAD issues throughout his life, producing many peer-reviewed journal articles. However, Aldo was also driven to share his knowledge in a more practical sense, producing a suite of teaching and training resources and travelling extensively to train operators in correct vacuum delivery procedure.

It was in Papua New Guinea that Aldo Vacca found his calling. Following his medical training at the University of Queensland in Australia, he began his medical career in PNG, initially as a GP and then in the Division of Obstetrics and Gynaecology at the Port Moresby General Hospital, where he was responsible for supervision and review of the Maternal Death Register. The findings of his investigation into the causes of all maternal deaths reported between 1973-1975 were a key factor in the development of his interests in the management of operative vaginal delivery.

In 2007, Aldo Vacca was honoured with the Medal of the Order of Australia 'For service to medicine in the field of obstetrics and gynaecology, particularly through the research and promotion of the technique of vacuum extraction delivery in obstetric practice'. And in 2011, this was followed with a Distinguished Service Medal from the Royal Australian and New Zealand College of Obstetricians and Gynaecologists.
Individuals should learn to grade instrumental procedures according to the technical skill that is required and attempt only those vacuum deliveries that fall within their own level of expertise.